Book 2003
Stop motion animation
2min 20 sec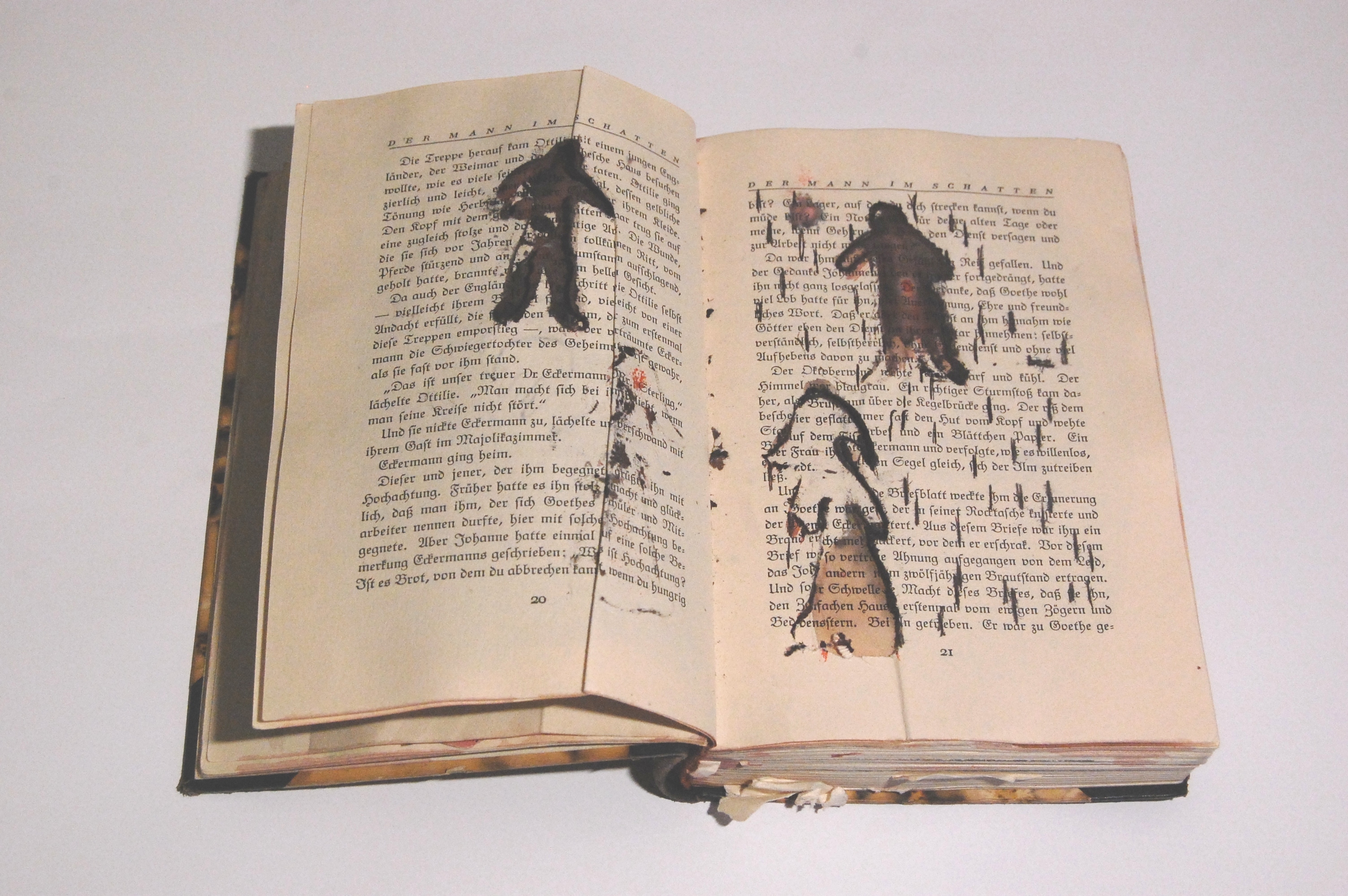 I have been always fascinated by books, but I rarely read them. I like how they look, how they feel and the structure of the letter forms they contain.
While visiting Berlin's flea market, I came across a book stand and fell in love with one of its book, despite my lack of understanding of the German language. I decided to buy it and use it for my project as a sketchbook to serve me as a starting point for inventing a new story. Evoked by merely the graphical content of it, I decided to redraw literally the story in to it. I drew and cut outs pieces of the book's pages to transformed the book into an art form.
Although I set to myself a rule not to getting affected by the meanings of the words in the book, I could not help searching for glimpse of internationally familiar words. This probably ended somehow affected the choice of images I decided to draw but also proved how the curiosity and influence of knowledge plays with our minds.
When I completed my work I did not feel completely satisfied with the outcome, and craved a more linear closure to that new story; I then started to experiment with the book further by creating a stop motion animation film, using the pages and cut outs I created.
The experience of transforming one story to another left me with this thought. The most satisfying for me was the imagination the book evokes in me, the creativity which followed, and the discovery of the new life the book had through my project.
Screenings:
Pratiques du film d'animation : programme et expérience(s) – Artist Talk, LARA, Université Toulouse Jean-Jaurès, France 2014
The Artist's Book NOW, Chelsea Arts, Culture and Heritage Centre, Quebec 2013
Gaza's International Festival for Video Art 2012, General Union of Cultural Centers
Abu Hsirah St. behind Al Shifa Hospital, Gaza
MARGINS, Art Suites Gallery, Beyoğlu/Istanbul, Turkey 2012
Instituto Tecnológico y de Estudios Superiores de Monterrey, México 2011
Cinéma L'Horloge, Animation Film Festival, Meximieux, France
Busan International Video Festival, Kore
The Walthamstow International Film Festival, London,UK
SCAM CASORIA Contemporary Art Museum, Magmart, Italy 2010
Streaming Festival, Netherlands 2009
ATA Film and Video Festival, "Global Underground,USA2008
Bath Fringe Festival, Drop Frame 2, 2007
Ladyfeast, Exp 24, 2007 ASU 11th Annual Film Festival 2007
700IS Film Festival 2007 Athens Video Art Festival 2006
Animex Student Animation Award (Selection) 2005
The Drawing Prize WSA Award (1st Prize) 2003