VideoWords in Berlin
Institut für Alles Mögliche / Stützpunkt Teufelsberg
June 6 – September 26, 2021
The dates on which the project videos will be screened are:
6.6., 12.6., 13.6., 26.6. and 27.6. / 2 – 6 pm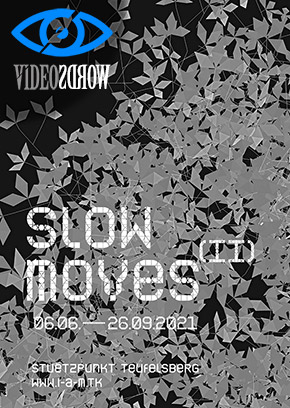 VideoWords, the last special project of Magmart, arrives in Berlin. The 28 videos that make up the project will be part of the 'slow moves' review, by the Institut für Alles Mögliche. "slow moves" is an exhibition format that is carried out over a rather long period of time and that is open to the public occasionally. It starts out with a first set of art works which from then on keeps transforming and evolving. Over the course of the exhibition some of the works are leaving the show while others remain and again others join the process. For how long single works remain on display, how often the exhibition is rearranged or how many artists participate in total is not yet defined and varies in relation to the specifics of each piece. Thus the presentation continuously changes and presents a different composition of works, arrangement in space and narrative each time the exhibition is open publicly.
MOVING HARTS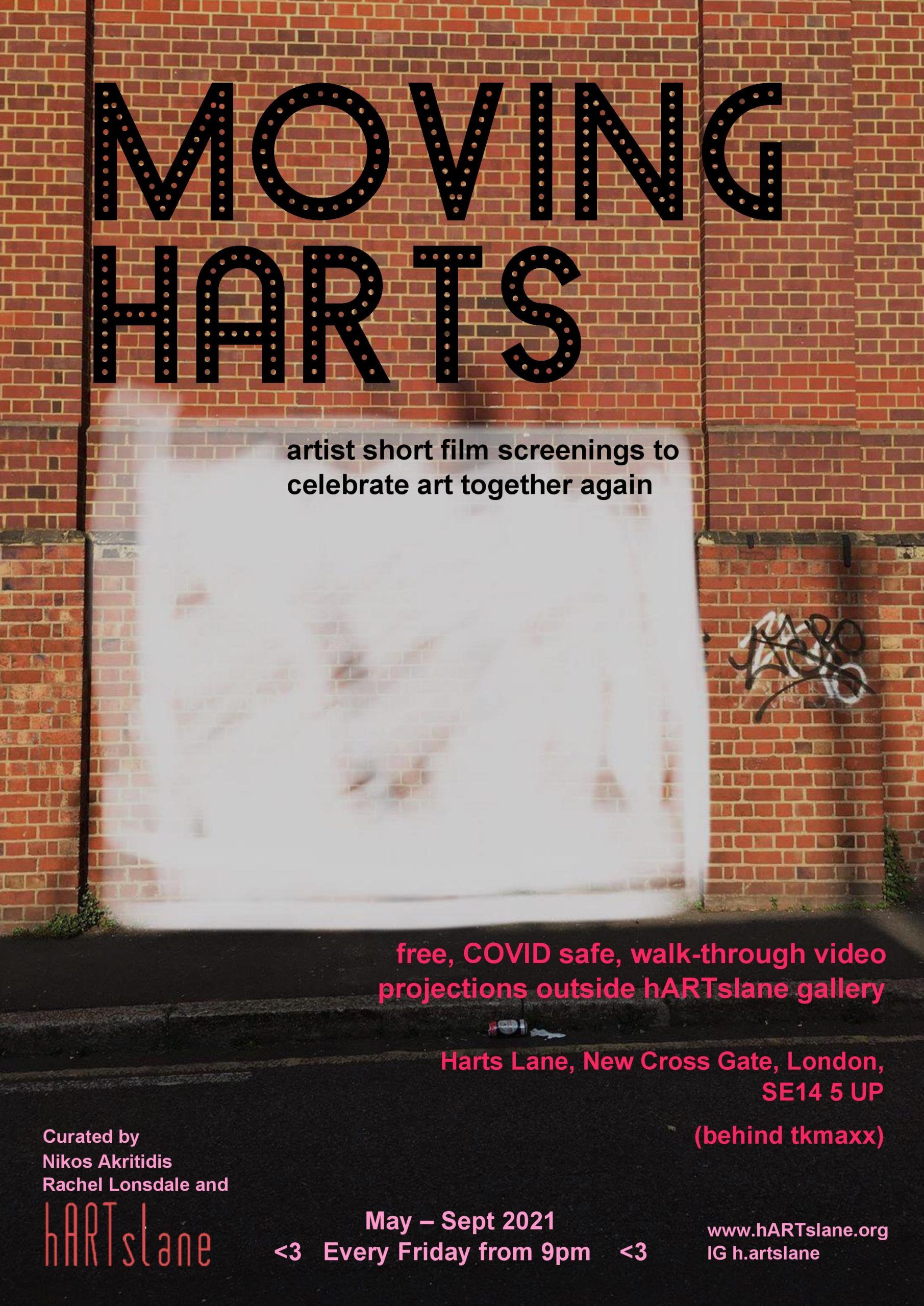 Artist short film screenings to celebrate art together again.
After many months in lockdown, we can't wait to introduce you to Moving Harts!
A programme of Covid safe, walk-through art video projections to enjoy the arts and get together again.
Every Friday evening Moving Harts will bring you a different collection of short films from artists from around the world.
Screenings start at dusk, around 9pm, and last roughly 1 hour.

On from Friday 7th of May – September 2021.
An informal set up outside hARTslane gallery, projected onto the back of TKMaxx in New Cross Gate.
Curated by:
Nikos Akritidis
Rachel Lonsdale &
hARTslane
In collaboration with:
VideoWords

Follow us on Instagram @ h.artslane for latest updates: some screenings will include an artist talk or other special features.
Fête des Lumières à la fenêtre
The Live Drawing Project
https://thelivedrawingproject.com/
Programmation
December 2020
20h – Les artistes lyonnais
Déambulations – Janine Martin Prades
Intérieur Nuit – Trouble Collectif
Joyeuses Fêtes – Robin
Loopings – Francis Malapris
Shuffle Dance – 4cutprod
Lumen – Julien Menzel
Burning Love – Clémentine Breed
Montgolfières – Eugénie Lichet
Dessins au trait – Esthelle Froid
Créatures – Marta Daeuble
Aurora – Gain Scenography
The Mouth – Emilien
Bouquets – Clarisse Garcia
Dessins de confinement – Lucas Servoz
Peintures – Maëlle Valantin
Planets – VJ Paulicorne
21h – Live Drawing
RIDDLE 57
printmaking, poetry & animation
I am pleased to be part of an exciting project run by the Double Elephant Print Workshop in Exeter which shares my passion for printing, poetry and animation in this playful interactive riddle that can be "played" by the readers themselves.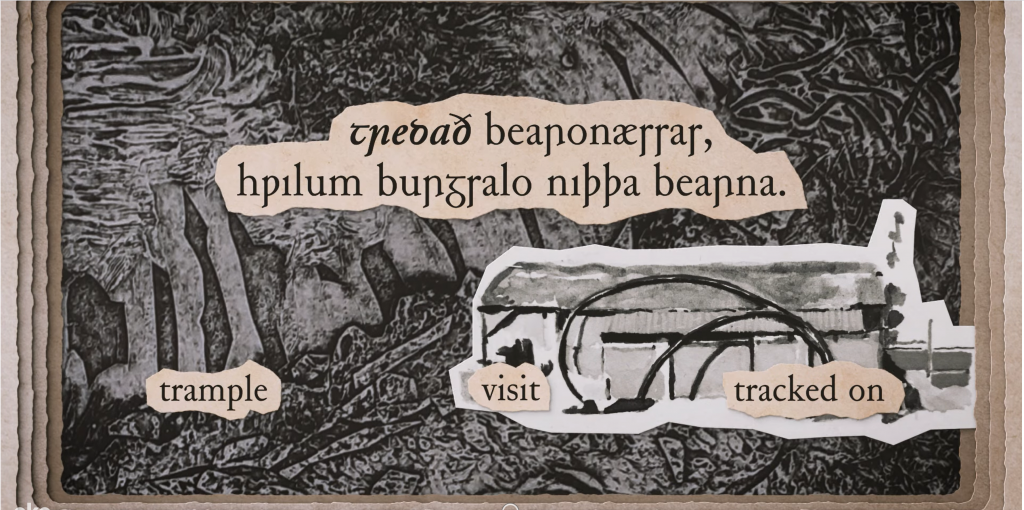 PLAY THE RIDDLE ON:
https://www.doubleelephant.org.uk/riddle-57
Riddle 57 is one of nearly 100 riddles from The Exeter Book, a 10th-century anthology of poetry in Exeter Cathedral's library, recognised by UNESCO as one of the world's principal cultural artefacts. The riddles are playful little windows into the past. They're dynamic – demanding to be played, replayed and interpreted.
The project is one of Exeter City of Literature's Associated Projects. In November 2019, Exeter joined a global network of 39 cities that specialise in Literature. The UNESCO designation 'City of Literature' recognises excellence and places an obligation on cities to nurture and support their artform and collaborate internationally.
Dwell Time issue 2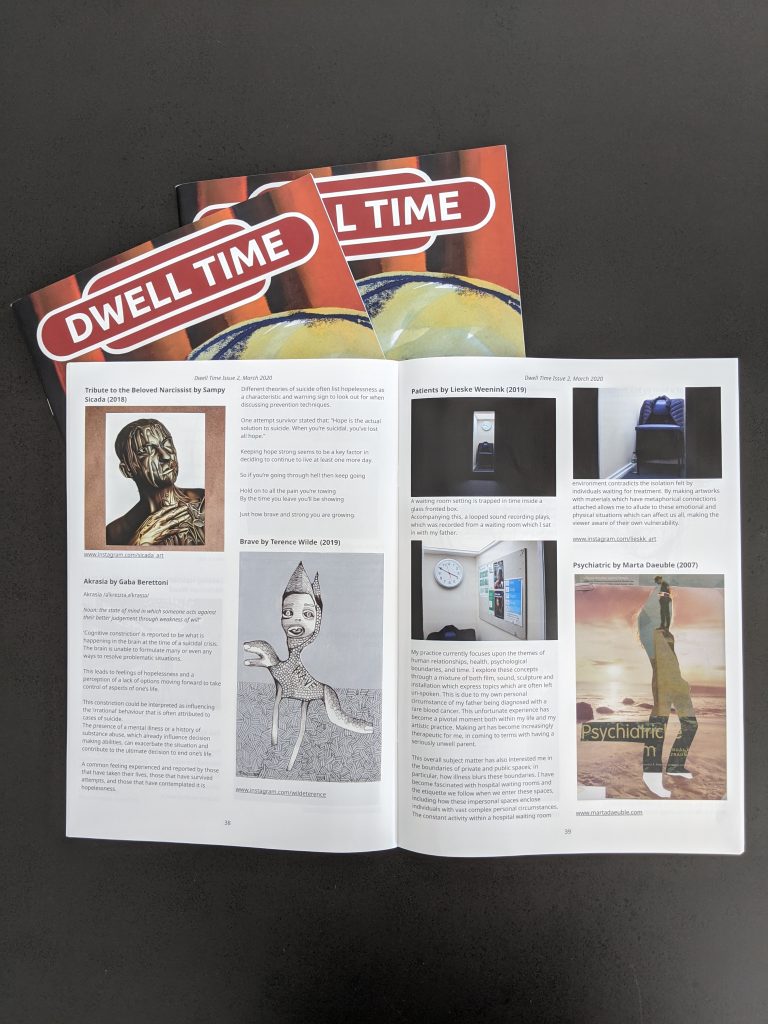 Collage "Psychiatric" in the award winning, not-for-profit arts publication reflecting on mental wellbeing. Produced and curated by Alice Bradshaw, Vanessa Haley & Lenny Szrama, founded in 2018.
Penny Thoughts Magazine Issue 30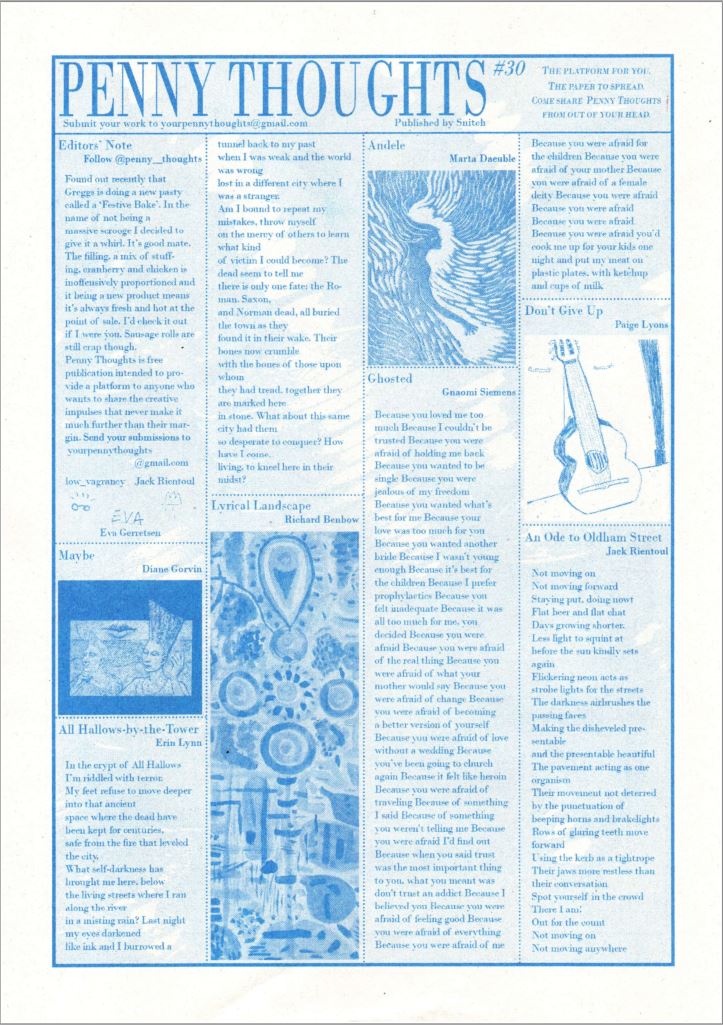 Linoprint "Andele 2020" in issue 30 of the Penny Thoughts Magazine, a free publication printed on a single A4 sheet of recycled paper featuring artwork and writing. Penny Thoughts is a platform for creative ephemera; a place for drafts, sketches, half-baked plans as well as fully-fledged ideas and artworks. Currently distributed it for free around Manchester, in pubs, bars, shops, on buses, even street corners to maximise exposure to a wider range of people with varying abilities, skills and creative habits. Grab a copy when you see one!
Humanising Medicine Exhibition
November 19, 5:30 pm – 7:30 pm
Barts Pathology Museum 24 W Smithfield,
London, United Kingdom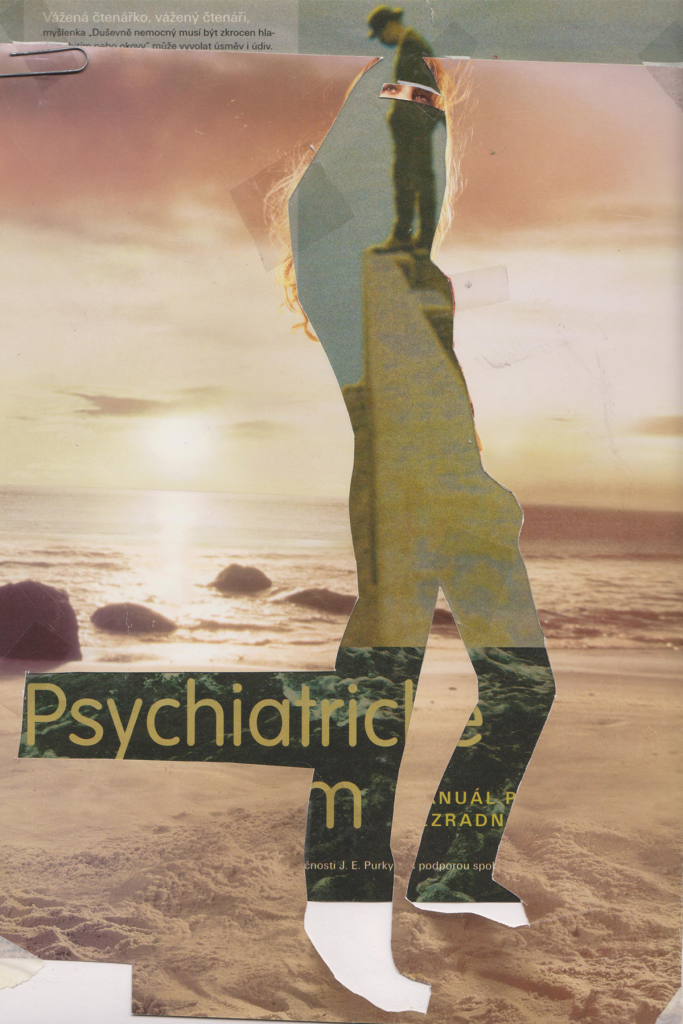 We at Queen Mary are delighted to team up with King's College London to bring you the Humanising Medicine exhibition. In celebration of the human side of medicine we are holding an evening of art and discussions as part of the Being Human Festival. This year the theme of Being Human is 'Discoveries and Secrets' and the theme for the Queen Mary-King's College London hub is 'This time it's personal'. Our aim is to make medicine truly personal, to make medicine personalised.

This event is part of the 'This Time It's Personal' hub series by Queen Mary University of London and King's College London.
Falling Walls Exhibition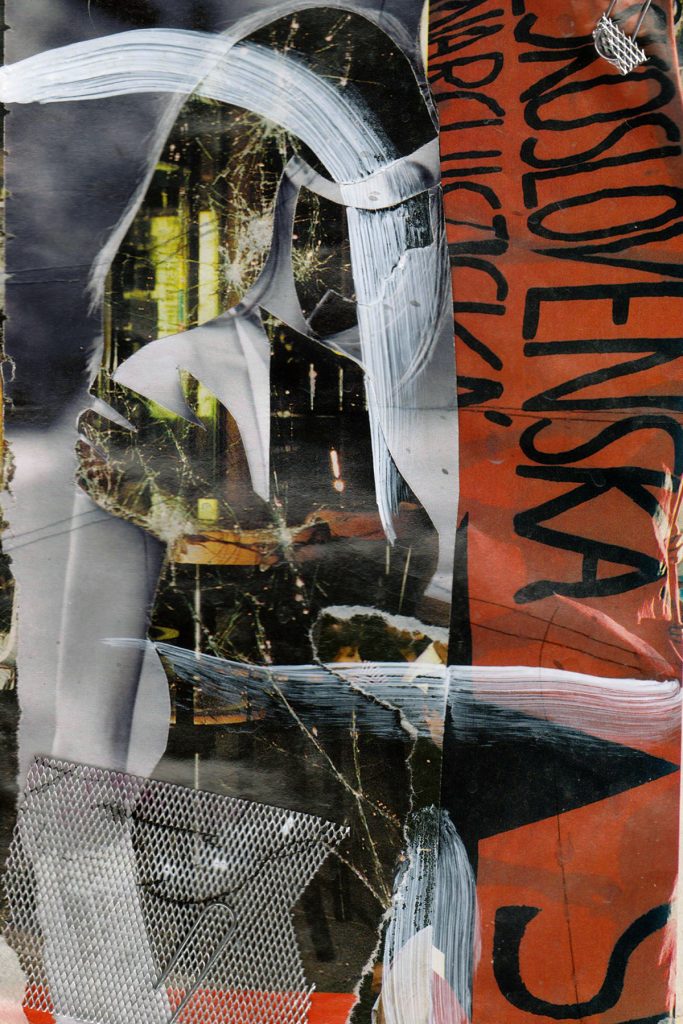 1 -16 November 2019
'Falling Walls' is a international mail art exhibition hosted by SVA as part of the project 'Berliner Zeitgeist' in Stroud, England. 'Berliner Zeitgeist' is an extensive Autumn programme with films, talks and artist lead events responding to the theme of the historical event of the Fall of the Berlin Wall and how it had so many effects on a personal and international level. This project is also a creative response at a time of critical political transition, in a time of Brexit, to build positive connections between artists and communities across Europe.
All Berliner Zeitgeist events are listed here: www.atelierstroud.co.uk/berliner-zeitgeist
During the exhibition we will host a Soup Versammlung in the gallery where we will facilitate a discussion around one of the themes of the project.
The exhibition will take place in John Street gallery, Stroud Valley Artspace (SVA), Stroud, Gloucestershire, UK. The Private View will be held on Friday 1st November from 6pm.
The exhibition will move to the Nau gallery in Cheltenham, Gloucestershire where they will also host a Soup Versammlung.
In December Falling Walls will travel to Cheltenham at Nau arts Gallery Dec 4th -10th (Private view on Dec 4th 6:30-8;30pm)
After Cheltenham the exhibition will move to Spike Island in Bristol. Dates to be confirmed.