Coffee Creatures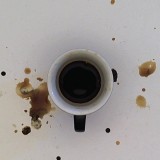 Creative Creatures, 2014
Stop Motion Animation
4 min 19 sec
Statement:
Creative Creatures is a stop motion animation which deals with the idea of creativity evoked by simple every day activity.
As a starting point a have chosen a coffee stain from my morning coffee and used it to feed my imagination to create a drawing. The stain allowed me to have every day new start as its shape, size and quantity was always different. However I made myself few rules that I will try to not correct my work by editing the final outcome and I will not work more than an hour and half each day.
Every day I have set new set using cup of coffee, piece of white paper, painting tools, two cameras and computer. One camera was taking the process of making with a set automatic loop, and the second camera I have used, was connected to the computer taking stills to create the final stop motion animation.
At first I was not strictly set on the theme of the animation and let my imagination and spontaneous work to take its cause, but somehow all my outcomes came to be of similar kind. I wonder if that was my unconsciousness trying to maintain work I started each day to create a continual story.
This work was an interesting experience for me. The more I was getting used to the process of making, which I set to myself, the easier was for me to control the media. Even a stain, which was at first difficult to manage, became a source of new ideas how to draw. For example, the wet element of the stain was difficult to draw in to. Let it dry, I would have to stop for too much long time, so I have used this obscurity to my advantage and just play with the element of wet to wet technique, which happened to be somehow beautiful way to add movement to a stillness of the stain.
Nevertheless I have learnt how much the mind is trying to control everything we see to make a familiar sense of it. No matter how much I wanted to work in a free manner, I could not help to take a pleasure to create something recognizable. So the implicated idea of a making a spontaneous drawing from a stain of coffee became a start to a well thought-out story.
Screenings:
The Live Drawing Project, Lyon
Homart, Saint Didier de Formans, France
International Short Film Festival Sleepwalkers, Tallinn, Estonia
Facade Video Festival, Plovdiv, Bulgaria
34ème festival du film d'animation de Bourg-en-Bresse, France
Très Court International Film Festival, Paris France
MJC Chaponost, France
Sidney Cooper Gallery, Open Film, Canterbury, UK
Umpqua Valley Arts Association, The Creative Process, Oregon, USA